On a Friday night, as I was getting ill because of Wuhan winter coming way too early according to my taste, I yet got enrolled into a new adventure at Wu Bar in order to discover a new band – Hybrid. 
Five people. Four instruments, one voice and multiple horizons.  
The night is about to start well. The place is intimate with high tables, bar chairs and a stage close to the public. The ambiance is nice and very welcoming for a gig. 
One last check and the lighting is finally set up. The band is ready, I have my beer. Show time ! 
Opening with the classic « Feeling Good » by Nina Simone, Hybrid gives us a bit of jazz mixed up with some good funk. One thing is certain: this is full of pep and well interpreted. The members listen to each other and pay attention to what is happening. Like the 5 fingers of the hand, they complete one another. 

After a rocking cover of « One Way or Another » by Blondie, Hybrid keeps surprising me with its various selected repertoire. The singer's voice catches every ear while performing the well-known « I'm No Good » by Amy Winehouse.
 The atmosphere keeps going up one cover after the other, with a very positive energy. Each piece is chosen following a wild path – Hybrid takes me where I wouldn't expect to be taken. They are different and it works.


Nothing is taken for granted, the musicians are real performers and each of
them is allowed a « solo » at some point of the show. They give a beautiful tribute to every artist they cover by adding their little spark with a lot of respect.  
The crowd is there, dancing to the rhythms of « Moves Like Jagger ». 
No matter where Hybrid decides to go, everybody follows without hesitation.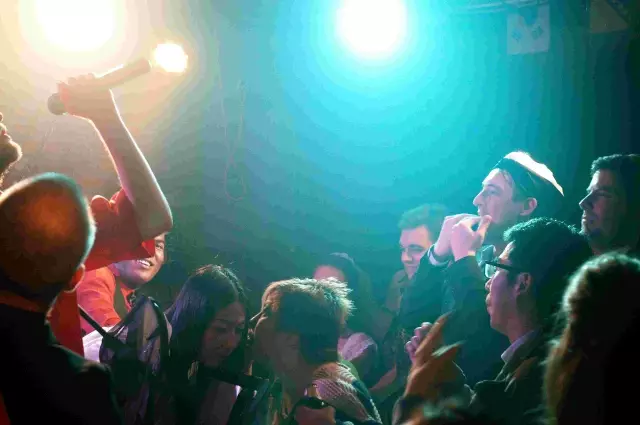 They are a good surprise. The repertoire is so varied and yet awesomely interpreted that it leaves the cliché at the door. They avoid it brilliantly by standing for who they are: 5 people with their differences who come together and unite their passion to give the crowd a great show. They are talented and yet, they remain humble. This is what I probably love the most about them !
The band draws from a lot of influences thanks to the varied cultural and musical backgrounds. Each member has different musical inspirations and it is greatly reflected in their sound as a whole. 
So, my dear reader, what are you waiting for ? Do you like music ? Do you like live performance ? Of course you do. Then don't miss your chance! 
Subscribe to the Hybrid Fan Group Wechat to know more about their future gigs !
Hybrid, as mysterious as the name can be, will not disappoint you !
But Who Are They ?

Eva Yang – Lead Vocals 
Graduated from Wuhan Music Conservatory University, Eva is a native Chinese young singing teacher. If you haven't been able to listen to her voice yet, don't wait any longer !

Munyaradzi Arnold Sigauke aka Arnold Siggy – Bassist 
Coming from Zimbabwe, Arnold Siggy is a student at Li Gong University. Former member of Afro Fusion Band, he loves music but he loves bass guitar even more !

Faly – Drummer
Former member of The Hendrix, Faly comes from Madagascar and is currently studying medicine at Tong Ji. His drumming skills will definitely make you dance !

Paul James – Lead / Rhythm Guitarist 
Paul James is a British Graphic Design Teacher at Wuhan University of Technology. Also a former member of The Hendrix and as a real passionate, he excels in guitar and brings the band together.
Leda Fiathia Yvon, aka Ryan – Keyboardist 
Currently studying at China University of Geosciences, Ryan is a former member of The Hendrix and comes from Madagascar. With his keyboard, Ryan brings his own spice and makes the sound go even funkier !
Photo credits 
Autumn
Link: https://500px.com/autumnclf